---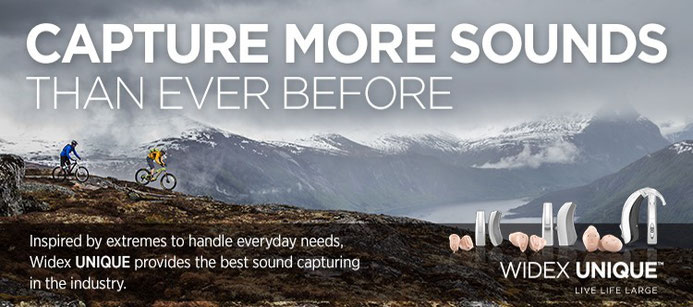 ---
The UNIQUE 330 is the latest, advanced hearing aid manufactured by Widex. It is one technology level down from the premium UNIQUE 440 hearing aid. Launched in October 2015, it is the direct replacement for the previous Widex DREAM 330. Incorporating their newest processing chip (U-Platform), this new hearing aid from Widex pushes the performance barrier and takes digital processing to a whole new level. 
Packed with all new features, the Widex UNIQUE captures more sound by including 4 A/D converters for an incredibly wide input, a sound classifier for intelligent listening and a Wind Noise Attenuation system that dramatically reduces wind noise. UNIQUE is documented to deliver a dynamic range from 5dB SPL up to 113dB SPL.
To learn more about what all these new features mean for the Widex UNIQUE, please watch the video below.
---
---
The Widex UNIQUE 330 is available in 6 different styles; 3 'behind-the-ear' and 3 'in-the-ear'. Excluding the Unique 330 CIC-M (Widex's equivalent of an IIC or 'invisible-in-canal' hearing aid) which has no wireless capability, all styles of hearing aid contain the same technological features; just wrapped up in different packages to suit your lifestyle, hearing loss and personal preference.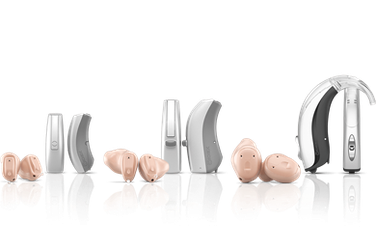 UNIQUE 330 'in-the-ear' styles:
WIDEX UNIQUE 330 CIC-M: non-wireless, 'completely-in-canal'-'micro' (equivalent to an IIC 'invisible-in-canal'), (size 10 battery)
WIDEX UNIQUE 330 CIC: wireless 'completely-in-canal' with telecoil (size 10 battery)
WIDEX UNIQUE 330 XP: wireless 'in-the-ear' with telecoil (size 312 battery)
UNIQUE 330 'behind-the-ear' styles:
WIDEX UNIQUE 330 PASSION: wireless, mini 'receiver-in-canal' (size 10 battery)
WIDEX UNIQUE 330 FUSION: wireless, 'receiver-in-canal' with program button and telecoil (size 312 battery)
WIDEX UNIQUE 330 FASHION: wireless, slim line, power 'sound-tube BTE' or 'standard BTE' with program/volume control and telecoil (size 312 battery)
---
The Widex UNIQUE 330 processes sound across 10 frequency channels, 5 less than the UNIQUE 440 aid. More frequency channels results in more accurate processing, precise sound and better speech intelligibility. With 10 fine-tuning channels, it provides a good amount of options for personalised sound adjustments for user preference and hearing needs.
The Widex UNIQUE 330 uses their latest algorithm for noise reduction (Noise Reduction), including a low-level background noise reduction system (Soft Level Noise Reduction) and adaptive directionality (HD Locator). The powerful 'Soft Level Noise Reduction' feature reduces the soft sounds users do not want to hear whilst retaining the audibility of soft speech. It determines the difference between speech and noise without any compromise in speech intelligibility or comfort. Hearing soft sounds is particularly important for hearing aid users but even more important than this is determining which sounds are useful and which are not. The UNIQUE hearing aid ensures important soft sounds are maintained and unwanted sounds are removed. 
For reducing the effects of outdoor background noise, especially wind noise reduction, the 'Wind Noise Attenuation' feature is only available in the UNIQUE 440. Switched on, this feature provides an impressive improvement of 8.4dB SNR (signal-to-noise-ratio) in wind noise vs. the feature being switched off in the hearing aid. Therefore, if you are an outdoor person and are looking for the best background noise reduction system, we would recommend you opt for the UNIQUE 440.  
---
Using 'Inter-Ear' technology, the Widex UNIQUE 330 allows both hearing aids to act simultaneously as one system. Using this wireless exchange of information, the UNIQUE 330 hearing aids work as a pair to detect and adapt in 5 different listening situations for clarity, comfort and audibility. This feature is known as 'Sound Class Technology' and works in sync with the 'Speech Enhancer' to reduce noise and focus on the most dominant speech signal detected in the environment.
The 'Inter-Ear' feature also supports the synchronization of program and volume adjustments made on one hearing aid, automatically transferring the changes to the other hearing aid. 'Inter-Ear' also allows for better hearing on the phone via the 'Phone+' feature. The hearing aids automatically detect when the user is on the phone and switch to a phone program that streams the sound signal to both hearing aids. 
Click on the video below to learn more about the 'Sound Class Technology' feature in the WIDEX UNIQUE 330.
---
---
The UNIQUE 330 also uses the 'Inter-Ear' feature for their latest feedback algorithm (Multi-Directional Active Feedback Cancelling). The wireless communication between the hearing aids allows them to accurately detect actual feedback and eliminate any annoying whistling sounds.  
Additional features in the Widex UNIQUE 330 include the 'Digital Pinna' feature which mimics how your real ear would pick up specific frequencies naturally; resulting in better hearing in noise and improved spatial awareness and the 'Trusound Softener Plus' which quickly reduces any sudden and spontaneous loud sounds that may be uncomfortable for the user (e.g. rattling plates and cutlery).
The 'Personal Audibility Extender' allows the hearing aid user to hear and process high frequency sound more effectively. It does this by converting high frequency sounds in to a lower frequency range where the wearer's hearing is less affected and damaged; a great feature for those individuals with a severe to profound high frequency hearing loss. 
Furthermore, the Widex Unique 330 can be programmed to gradually increase in sound level over a pre-specified period of time. This feature is known as 'Personal Acclimatisation' and allows a new hearing aid user the opportunity to adapt to the hearing aid at their own pace. Through the 'Sound Diary' feature, the hearing aids can also keep track of manual volume changes, allowing the default level of sound to be adjusted to the user's preferred level in up to 4 different sound environments. 
---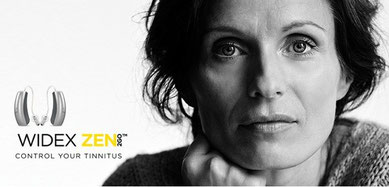 The Widex UNIQUE 330 also incorporates a personal tinnitus management tool called 'Zen'. For tinnitus sufferers, 'Zen' includes a library of Zen melodies for tinnitus management and relaxation. Zen attempts to reduce the effects of tinnitus by using soothing tones to mask the tinnitus. The Widex UNIQUE 330 also has 'Zen+' which allows the user to select their personal preference from a library of soothing tones and sounds as well as 'Personal Zen' that allows the sound to be frequency matched to the user's individual tinnitus. 
---
The Widex UNIQUE 330 allows for full connectivity and compatibility with the Widex DEX range of communication accessories: COM-DEX, TV-DEX, RC-DEX, PHONE-DEX, T-DEX, CALL-DEX, UNI-DEX and FM+DEX. These accessories provide full connectivity to mobile phones, remote controls, TVs and more. 

---
Benefits of WIDEX UNIQUE 330 over WIDEX UNIQUE 220:
10 channels vs. 6 channels

Sound Class Technology (5 different environments vs. 3 environments)

Digital Pinna

Speech Enhancer

Phone+
---

---